Mortgage credit availability saw a slight decrease in January as lending standards tightened.
The Mortgage Brokers Association's the Mortgage Credit Availability Index (MCAI) was down 0.2% to 181.9 (benchmarked to 100 in March 2012).
"Similar to December of 2019, the decline came from the reduction of low credit score, high-LTV programs," said Joel Kan, MBA's Associate Vice President of Economic and Industry Forecasting. "Furthermore, there continues to be movement with both adds and drops in the government program space, with the net result last month showing small growth in the government index."
The Conventional MCAI decreased 0.5% and of its components the Jumbo MCAI decreased by 0.3% and the Conforming MCAI fell by 0.9%. The Government MCAI increased by 0.4%.
"Although credit supply has flattened these last two years, the meaningful increase seen overall since the Great Recession has been helpful to the growing share of first-time homebuyers, as well as refinance borrowers looking to act on lower mortgage rates. Ongoing housing supply constraints in the lower-price range continues to hold prospective buyers back the most," added Kan.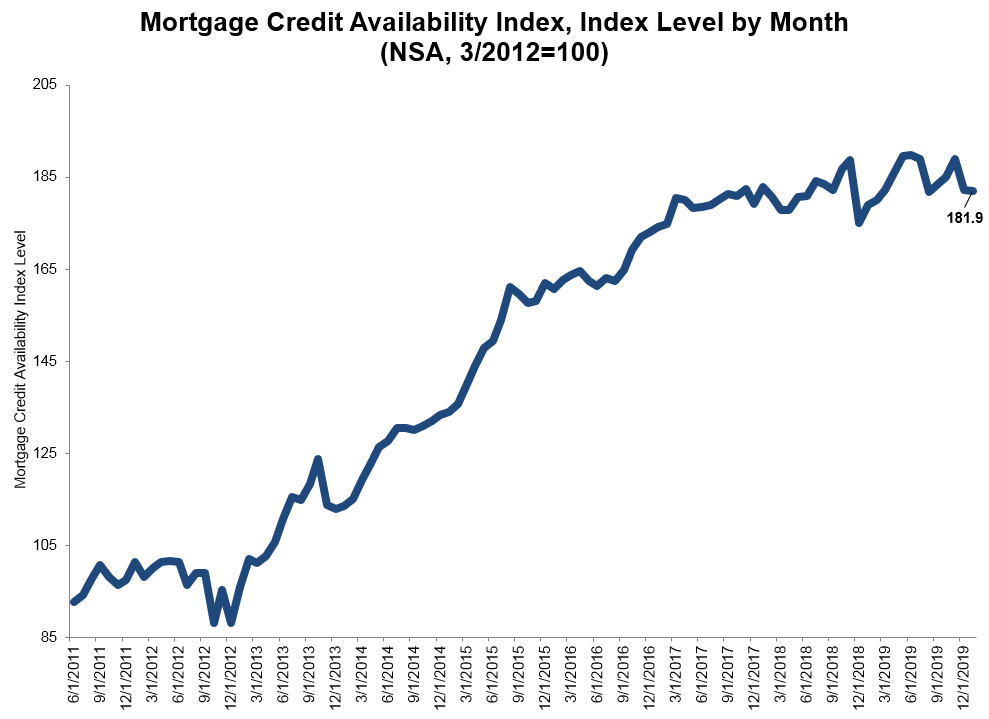 Source: Mortgage Bankers Association; Powered by Ellie Mae's AllRegs® Market Clarity®
More market update: